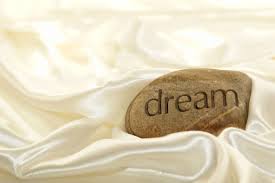 Dreams take courage. If you lead people, first develop your dream, then teach them to dream and watch their engagement, attitude, and productivity rise.
You have every right to dream – and to go after it. This is not only your right, but a NEED for a fulfilled life. Think about it…when you were a kid, you may have been told your dreams were unrealistic (ok, so maybe being an astronaut or a princess isn't happening for everybody). Everyone has an idea of what a great life looks like…and they have no problem telling you their point of view.
Your dream is just that – YOURS. And in order for you to keep you going during the tough times, you need your own inspiration. It isn't always easy to find your own dream. But it's a worthwhile cause.
I've been reading a book by Jay Conrad Levinson and Andrew Neitlich, "Guerilla Marketing for a Bulletproof Career" in order to help some of my clients who are in career transition. But the questions they pose apply to all of us, no matter where we are in life.
I highly recommend the book – you can check it out HERE – by the way, this is not an affiliate link – I don't get anything from recommending it – I just like to share helpful resources. (Side note: Andrew is my fabulous executive coaching mentor.)
Some of the questions from the book follow. I like how they pose a question and ask you to identify both what you want and what you don't want.
What are the core values that define how you want to live and the work you want to do?
What are the core values that are the opposite of how you want to live and work?
What kind of lifestyle do you want to have?
What kind of lifestyle do you NOT want to have?
What contribution do you want to make to others, and why will this nurture you?
Which people and occupations do you most admire?
Which people and occupations do you NOT admire?
If you could live anywhere, where would it be? What would it take for you to live there, if you don't already?
What achievements would make the next five years worthy? Ten years? Fifty years?
What are things that will get in the way of your taking immediate action and small steps to achieve your dream?
The last question is critical – action is what is needed to turn your dream into reality, and you'll need  energy, courage, and support to get there.
If you have trouble answering these questions, you may wish to consider working with a coach who can help you explore what YOU want and how to develop your own dream.
GECG, LLC works with leaders who have big dreams, and help those dreams become reality. Feel free to contact us to talke about how we can help you and your organization. Call us at (254) 793-0101 or email sandi@executivecoachaustin.com.