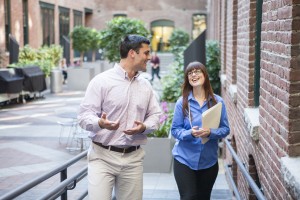 There are just about as many definitions of leadership as there are people who have tried to define it.  It's safe to say that leaders motivate individuals for the greater good – whether for an organization, a city, a country, or a people. We live in a complex world of challenges, and need leaders throughout organizations and across industries and countries who are driven to make a positive difference. Leaders are expected to make decisions of real consequence. Great leaders create a strong competitive advantage by successfully executing strategic plans that create impact through periods of change – whether technology-driven, a growth strategy, operational realignment, or integration of an acquisition. Senior leadership consulting provides:
Building a culture that connects people to vision by design, not default.

Program/performance evaluation. Provide  effective design, monitoring and evaluation of programs to measure impact and share learning. Conduct/ facilitate situation analysis, needs assessment, and recommend solutions/operational efficiencies. Advise on stakeholder relationship-building.
Learning & development strategy. Provide integrated development solutions that hold individuals accountable for meaningful and sustained behavior change. 

Creating teams that commit to and live high performance behaviors.

Strategic change. Major transformations will require supportive people strategies that inspire engagement and/or changes in behavior to meet the performance targets. Barriers to performance can be addressed by converting stakeholders into change champions that accelerate the pace of transition. Managers can also be provided with the skills to be able to help employees cope with changes and identify team and individual solutions.
Capability  gaps. Build necessary skills identified by assessments, peer feedback, or poor performance.

Assessing the depth and breadth of leadership capability to ensure bench strength.

Succession planning. Accelerate the readiness of potential talent through one on one or group coaching. This could be part of a high potential or fast track program that might also include leadership skills development, mentoring, cross cultural assignments and other learning interventions. Also equip managers with coaching skills to enable a focus on development with their direct reports, to identify and retain talent throughout the organization.

Workforce planning. Increase employee retention and promote diversity by working with underrepresented groups. Improve engagement and employee satisfaction in those hard to fill positions.
The GECG, LLC team focuses on leadership consulting that helps in understanding the leadership implications of your most critical business strategies and then assists in prioritizing a range of leadership interventions for maximum impact and return. We deliver an objective, neutral and professional evaluation of leaders in the context of the organization's strategic needs. We engage leadership at all levels of an organization to create measurable, sustainable change and improved performance.